Asia Green IT Forum 2015
---
May 19th, 2015
The 7th Asia green IT forum was held in Bali island, Indonesia. The purpose of the international conference is to spread and promote green IT in Asia.
Indonesia has 4th largest population in the world (around 240 million) and the economy grows rapidly. Increase of energy consumption is one of most urgent issues in this country, so over 120 attendees including from western countries eagerly participated in the conference. The lectures were made in the variety of fields, such as, the necessity of smart city, stable power supply to data centers and energy-saving.
From JEITA Green IT committee, Mr. Namikawa from Hitachi, the chair of delegation, and 3 other members gave lectures about energy-saving of data centers and how to utilize IT solutions for disasters or climate changes.
Outline
Date

May 19th, 2015

Venue

Indonesia Bali, Discovery Kartika Plaza Hotel

Hosted by

Ministry of communication and Information Technology
Indonesia Open Source Association (AOSI)
Japan Electronics and Information Technology Industries Association (JEITA)

Attendee

Government of Indonesia
Industry associations and government agencies of Indonesia
Industry associations of Japan, Malaysia, Singapore, US, Netherlands

Visitors

126people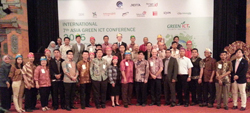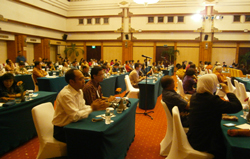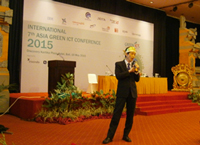 JEITA Green IT committee
Mr.Namikawa(HITACHI)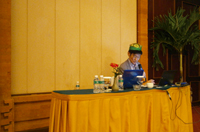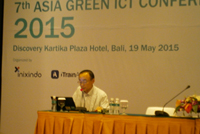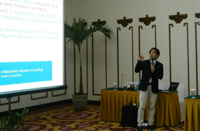 Speakers <Asia Green IT Forum 2015>
◆May 19th, 2015
[AM]

KEYNOTE SPEECH:

Mr. Bambang Heru Tjahjono
Director General, Application and Information Technology
Ministry of Information and Communication Indonesia
(Indonesia Ministry of Information and Communication application information technology Bureau)

-

PANEL 1 - SMART CITY ECOSYSTEMS:


1) Mr. Didik P.Rudiarto (moderator – INIXINDO,  Indonesia)
2) Mr. Serb Jodha (City Innovate Foundation, USA)
3) Dr. Idris Sulaiman. (Indonesia Energy  Conservation and Efficiency Society-MASKEEI)
4) Mr. Arief Utama (IBM)
5) Dr. Eko Indrajit (National Professional  Certification Agency = BNSP, Indonesia)


-

PANEL 2 - SMART DATA CENTERS AND SMART GRIDS:

1) Mr. Eric Kho (moderator - iTrain, Malaysia)
2) Mr. Chang Tsana (The Green Grid, Singapore)
3) Dr. Otto de Roo (EPI, Netherland)
4) Dr. Hamman Riza (Agency for the Assessment  and Application of Technology= BPPT, Indonesia)


[PM]

SESSION 1 (KHARISMA ROOM):

1) Mr. Serb Jodha (City Innovate Foundation, USA)
2) Mr. Mine(FUJITU)
3)Mr. Namikawa(HITACHI)
4)Mr. Watanabe(TOSHIBA)

-

SESSION 2 (HALL B):

1) Mr. Iman Sukmana (Telkom Sigma Data Center)  , Dr. Otto de Roo (EPI, Netherland)
2) Mr. Dian Novia (Esri Indonesia)
3) Mr. Mituishi(NISCOM)
4) Mr. Chang Tsana (The Green Grid, Singapore)


-

CLOSING:

Dr. Ir. Unggul Priyanto
Chairman, Agency for Assessment and Application of Technology (BPPT, Indonesia)
(Assessment application technology mechanism chairman)