Asia Green IT Seminar -Singapore-
METI and JEITA have implemented "Energy-Saving Survey" which utilizes Japanese most-advanced technologies with IT solutions.
A purpose of this survey is stated below:
1)To confirm whether energy-saving technologies and products with Japanese advanced IT technologies can be adopted by ASEAN industries after surveying the local equipment of ASEAN countries from the point of energy saving.
2) To contribute awareness rising of energy saving to local companies in ASEAN countries by showing prospective effects by green IT technologies.
In the final stage of the survey, "Asia Green IT Seminar" will be held not only to report survey process and its results, but also to introduce energy-saving countermeasures and best practices in Japan. We expect that the seminar will support to facilitate green IT technologies in Asia.

General Information
Date

:February 23, 2010

Venue

:Pan Pacific Hotel Singapore, OCEAN3-5

Charge

: Free

Organizer

:

Ministry of Economy, Trade and Industry (METI)
Japan Electronics and Information Technology Industries Association (JEITA)
Singapore infocomm Technology Federation (SITF)

Support

:

Infocomm Development Authority (IDA)
Japan External Trade Organization Singapore (JETRO Singapore)
Singapore Business Federation(SBF)

Management

: Green IT Promotion Council (GIPC)

Information

:
Asia Green IT Seminar Secretariat Japan Convention Service, inc.
1-4-2 Kasumigaseki Chiyoda-ku, Tokyo 100-0013
Tel: 81-3-3508-1277 Fax: 81-3-3508-1696
Email: AsiaGreenIT@convention.co.jp
We will serve refreshments in the seminar venue from 12:30p.m. and please help yourself.

Date: February 23, 2010
Venue: Pan Pacific Hotel Singapore, OCEAN3-5 (Singapore)

Greeting
13:00-13:10

Mr. Hidekazu Hasegawa
Deputy Secretary General, Green IT Promotion Council
Ms. Teo Lay Lim
Chairman of Green IT Chapter, SiTF
Country Managing Director, Accenture Singapore

Sesson 1
13:10-13:30

Share of Green IT in Global Warming Issue and Activities of Green IT Promotion Council (Tentative)
Mr. Atsushi Taketani
Director, Device Industry Strategy Office, Ministry of Economy Trade and Industry (Tentative)
*Green IT activities in Japan will be presented.

Sesson 2
13:30-13:50

Singapore's approach to Greening of Data Centres
Mr.LING Keok Tong
Deputy Director in IDA's Technology and Planning Group
Data centres consume huge amount of energy, which will emerge as the second-highest operating cost (after labour) of 70% of DCs facilities worldwide in 2009, according to a report by Gartner. The use of infocomm technologies can serve as a key enabler to improve DC energy efficiency and reduce its operational cost. This presentation will focus on Singapore's approach to the greening of data centres, with the purpose of increasing a company's competitiveness and lowering the cost of doing business here.

13:50-14:00

Break

Sesson 3
14:00-14:30

Report on Energy-Saving Survey Condition Based Optimum Maintenance and Operation for Heat Exchangers, Furnaces, Dryers and Control Valves
Mr. Tatsuhiko Imai
Manager, Global Business Headquarters, Production Excellence Solutions Division Yokogawa Electric Corporation
Plant asset condition monitoring and fault prediction based on online plant instrument data were conducted to diagnose these efficiency and behavior in a petrochemical complex and chemical plant.
The diagnostics results are used for optimizing maintenance and operation practice such as the heat exchanger cleaning cycle, cracking furnace decoking cycle, heat pattern of dryer, control valve stabilization and the procedure to achieve energy saving.

Sesson 4
14:30-15:00

Energy Saving by High Voltage Inverter
Mr. Takeshi Tachibana
Specialist, Moter & Drive Engineering Dept. TOSHIBA MITSUBISHI-ELECTRIC INDUSTRIAL SYSTEMS CORPORATION (TMEIC)
The amount of energy saving, Cost saving and Return of investment would be reported through TMEIC's own analyzing and verification system,which will be carried out by the data of existing motor such as rating, character of load, operating condition, operation pattern and so on. The space availability of existing Electric room will be investigated as well to encourage their energy saving by installation of high voltage inverter.

Sesson 5
15:00-15:30

Energy Management System that starts from Energy-Saving Survey
Mr. Tomohiko Miyahara
General Manager, Corporate Division for Promoting Systems & Equipment business Panasonic Corporation
Panasonic aims at realization of low carbon society as "environmental innovation company" by consolidating energy-saving, energycreating and energy-storing. Energy-saving survey in Chulalongkorn University (Thailand) showed the great possibility for reducing energy consumption and CO2 emission.
We believe that establishment of energy management system triggered by energy-saving survey and deployment of the system to ASEAN countries and the whole world will drive the realization of low carbon society.

16:00-16:15

Coffee Break

Sesson 6
15:45-16:15

Proposal from Energy-Saving Survey Result in Data Center
Mr. Minoru Okada
Senior Executive Manager, Green Consulting Business Unit, Green Consulting Business Division NTT DATA INTELLILINK CORPORATION
Recently, ASEAN countries achieve explosive growth, they therefore have got to grips with serious energy issue. In order to solve it, we would like to make a presentation (i) analysis of current issues in data center (DC) facilities/operation and (ii) introduction of advanced technologies to DC, based on the energy-saving survey in DC in Singapore.

Sesson 7
16:15-16:40

Introduction of Datacenter Performace per Energy (DPPE)
Mr. Motoyoshi Yoshiki
Senior Consultant, Socio & Eco Strategic Consulting Sector NTT Data Institute of Management Consulting, Inc.
Power Usage Effectiveness (PUE) is currently the most popular metric for data center energy efficiency. Since PUE does not reflect the effectiveness of IT equipment in a data center, Green IT Promotion Council (GIPC) is now developing a new metric, Datacenter Performance per Energy (DPPE), which is designed to express energy productivity of a total data center. Here, we introduce the concept and development status of DPPE.

Sesson 8
16:40-17:10

NTT DATA to promote Green Data Center® Service for environmental management
Mr. Makoto Kobayashi
Manager, Data Center Business Unit Business Solution Sector Solution & Technology Company NTT DATA CORPORATION
NTT DATA CORPORATION is one of the biggest data center suppliers in Japan with about 680,000 m² of gross floor area. We are now promoting Green Data Center® Project by integrating our IT and facility technologies in order to reduce negative impacts on the environment from data centers. Specifically, we have introduced several green technologies to our data center located in Tokyo. In order to reduce power consumption, we consolidated and integrated servers with virtualization technologies. At the same time we introduced a solar power system to use green power. As to energy efficiency, we improved it by a high-voltage DC power supply system and we also improved cooling efficiency with seismic isolator built-in system "Aisle Capping*."With these actions altogether, we aim to reduce 30% of annual power consumption comparing to that of our conventional data centers.
*:"Aisle Capping" is a registered trademark of NTT FACILITIES, INC.
"Green Data Center" is a registered trademark of NTT DATA CORPORATION.
Access -Pan Pacific Singapore Singapore-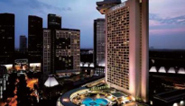 | | |
| --- | --- |
| Address: | 7 Raffles Boulevard, Marina Square, Singapore 039595 |
| Tel: | +65 6336 8111 |
| Train: | 10 minutes walk from City Hall MRT Station |
| More Detail: | http://www.panpacific.com/singapore/Overview.html |